Youth Activities
Young Leaders In Service

Shirley Lions recognise that Young People are contributing to the Community in many ways and we support young people to achieve the internationally recognised Young Leaders in Service awards.
The Lions' Mission for Young People
"To provide the young people of the world with opportunities for achievement, learning, contribution and service, individually and collectively, through sponsorship of activities identified as best practice in the field of youth development."
How do Young Leaders benefit ?
Experience the rewards of giving service to local people. Become involved with local Lions and Leos, make new friends and find new interests. Enhance your C V.
Who can take part ?
Young people aged 11 to 18 years.
What are these awards ?
On completion of 12 months service a
BRONZE SEAL for 25 to 49 hours
SILVER SEAL for 50 to 99 hours
GOLD SEAL for 100 hours or more
How does it work ?
You will receive a log book or record sheet in which to record your hours of service for 12 months. This service can be anything where you are providing a service to others.
Service Diary
Start date from 1st hour of community service.
Finish date : 1st anniversary of start date.
Presentation ceremony : an event to present the awards.
What service is involved ?
You can do anything in these categories and not all the service needs to be in the same category.
1. Environment 2. Health 3. Literacy and Education 4. Safety 5. Parents & Family 6. Hungry & Homeless 7. Disaster Relief 8. Help Elderly 9. Community Improvement 10. Other
What does the Young Leader receive ?
A Bronze, Silver or Gold Certificate.
A letter of congratulations.
A choice of either a metal pin or a cloth badge.
Want to know more ?
Contact Lion Jackie Culliford of Shirley Lions Club on 0845 833 9547 to talk about this and get started. Calls to this number will be charged at a local call rate.
Or email youngleaders@lionsclubs.co
Or visit our Facebook page : facebook.com/lionsylis
For further information please also see the Lions mainwebsite
Examples of activities to achieve Young Leaders in Service Award
Photos below show some of our YLIS from Light Hall School, Shirley Sea Cadets and Solihull 6th Form College receiving their awards.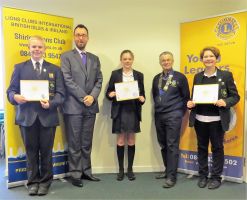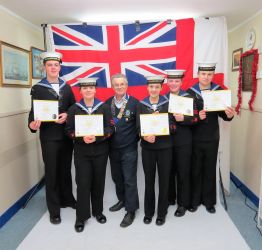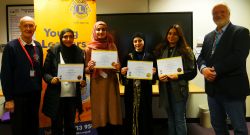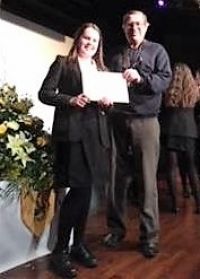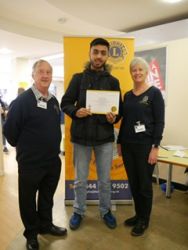 Photo left shows latest presentation of a Gold award at Solihull Sixth Form College to Sufyaan Irfan who has completed his 100 hours working in a Barnado's charity shop. He was very enthusiastic about the award and told us that he was trying to encourage others including his younger brother to take part. He said he "now considered himself to be a Lion".
Clean up for the Queen
On Saturday 16th April Shirley Lions organised two local litter picks as part of this national initiative, one in Shirley Park and one in Bills Wood Nature Reserve. From these litter picks around 30 sacks of rubbish were collected ; a total that would not have been possible without the help of our Young Leaders in Service. We would also place on record our thanks to Shirley Sea Cadets and pupils from local schools who also joined in.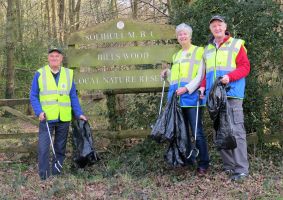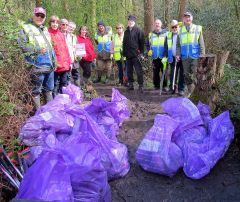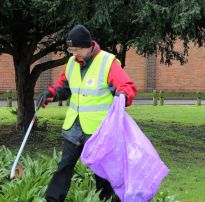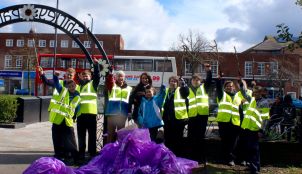 Shirley Lions also assisted Haslucks Green Junior School with their litter pick in Shirley Park in March 2017. 60 enthusiastic school children assisted by teachers and Lions tackled the whole of the park in one afternoon and collected bag upon bag of rubbish.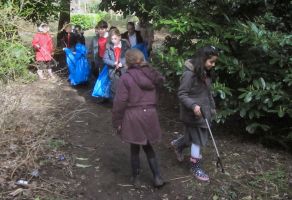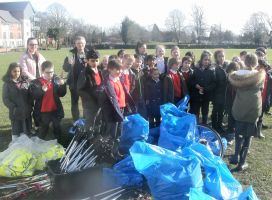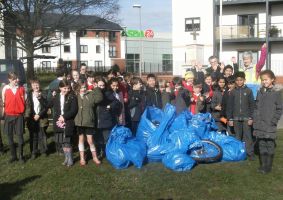 Tree Planting
Shirley Lions have planted 150 young trees at Palmers Rough in Shirley. This was arranged in conjunction with Adam Noon, Ecologist at Solihull Council, and with the assistance of students from Lighthall School. The trees were planted between two areas of ancient woodland and will provide a green corridor to help animal life move more easily from one area to the other. Martin Conlon of Shirley Lions said "When we first asked the Council about planting some trees, Adam said he had always wanted to join these two areas of woodland together and that this would be an ideal project for us to do. We were doubly pleased to be able to involve our local senior school and were impressed with their enthusiasm for a project they would not otherwise be involved in. It is too often that young people get publicity for the wrong reasons so it was great to show that this is not always the case". The project by the Lions was partly in celebration of the Centenary of the founding of Lions Clubs International but also part of one of their aims to involve local youngsters in community activities. Jacqui Allen of Lighthall School expressed her thanks for giving them the opportunity to share in this activity with Shirley Lions. It will hopefully have created good memories for these students for years to come.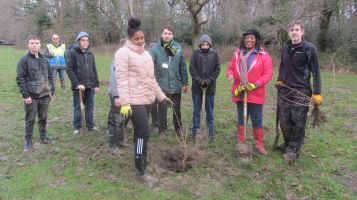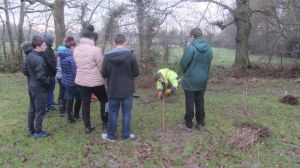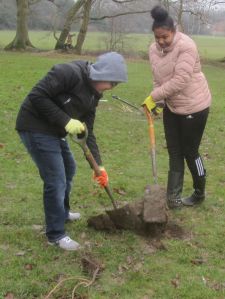 Young Ambassador of the 21st Century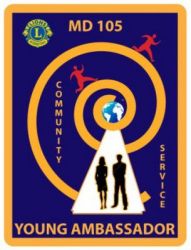 The Lions Young Ambassador competition acknowledges the work of young people working as volunteers and gives them the recognition they deserve, thus boosting their self-esteem, their confidence in themselves and highlighting the charities and volunteer groups with which they are involved. Shirley Lions Club is always keen to hear from young people aged 15 to 19 , who are active in their local community and who would like to take part in the contest.
For the Lions year 2017-18 Hannah Carthew is representing us. Hannah is the registered carer for her own mother, a peer mentor for other young carers with Solihull Young Carers, a peer mentor at her school, a fund raiser for "Help Harry Help Others" and has just completed her 100 hours service for the Gold Award as a Young Leader in Service with Shirley Lions.
Hannah won the Midlands District level of the Young Ambassador competition and now goes forward to the national finals in February 2018. We all wish her every success.
If you would like to represent us in the future in this competition or know someone who may be interested please contact Lion Jackie Culliford on 0845 833 9547. Calls to this number will be charged at a local call rate.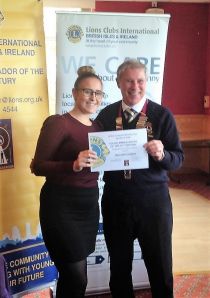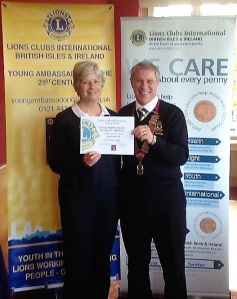 Peace Poster Competition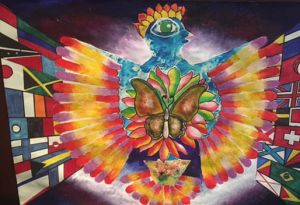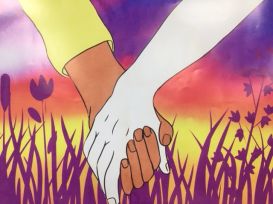 This contest encourages young people, aged 11 - 13 to think about peace, creatively express what it means to them and to share their own unique visions with the world. The theme for the 2017-2018 is "The future of Peace". Students select a medium as outlined in the contest rules below to draw, paint or sketch their interpretation of the contest's theme. For further information please contact Lion Jackie Culliford on 0845 833 9547. Calls to this number will be charged at a local call rate.
To watch the Peace Poster video please click on the YouTube link below.

For the full rules of the competition please go to http://lions105m.org/peacepostercomp.htm
Youth Exchange
The Lions Youth Exchange Programme began in 1961 and is committed to broadening international awareness among young people worldwide by enabling exchanges between countries in every part of the world. The programme funds visits abroad for individuals aged between 17 and 21 who are active within their communities each year. Particpants are given the opportunity to attend youth camps where young people from all nations get involved in community service and cultural projects. For further information please contact Lion Ken Barker on 0845 833 9547. Calls to this number will be charged at a local call rate.